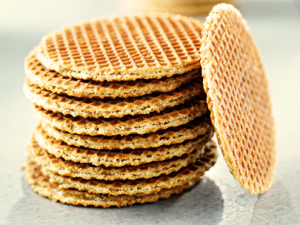 Stroopwafels are a dime a dozen, but Kanjers is one of a kind! These stroopwafels are large, authentically Dutch and made with cinnamon and bourbon vanilla according to the same authentic recipe since 1995. We've used the very best ingredients for the past twenty-five years. You can taste the care we put into our delicious stroopwafels! People around the world love Kanjers. Our special packaging makes Kanjers the perfect on-the-go snack, post-training energizer, or sweet school treat. In addition to our original Kanjers stroopwafels, we also have other delicious and unique flavours you'll love. Have you tried them all?
Kanjers stroopwafels are available at most Dutch supermarkets, petrol stations, train stations, vending machines, corporate caterers and wholesalers.
o you want to get in touch ?
Reach out to us! Please fill in the contact form below or send us an e-mail:
info@banketgroep.nl
| | |
| --- | --- |
| Banketgroep | T +31 (0)13 – 59 46 46 4 |
| Kraaivenstraat 17 | F +31 (0)13 – 59 46 43 4 |
| 5048 AB Tilburg | E info@banketgroep.nl |
follow us on social media!
This error message is only visible to WordPress admins